Both of the girls are in great condition, they have been spayed, their vaccinations are current for the year, Rabies vaccines have been done. They have only been here for a few days and they do get along with my other three dogs. They did bark and growl at a dog at the vet clinic when they went to get spayed, but stopped when I told them NO. They both want to cuddle and be lap dogs. They do walk on a leash. I do not have kids so I do know know how they react to kids. They have not tried to chase the cat, but the cat does not like dogs so they hide from the dogs. They did bark at the horses, but did not try to chase them. They have not tried to get into the goose pen either. They did not even look at my prairie dog in the cage. They have been in the house and have not attempeted to tear up anything. They just lay near my feet and follow me around the house.
Horse looking for home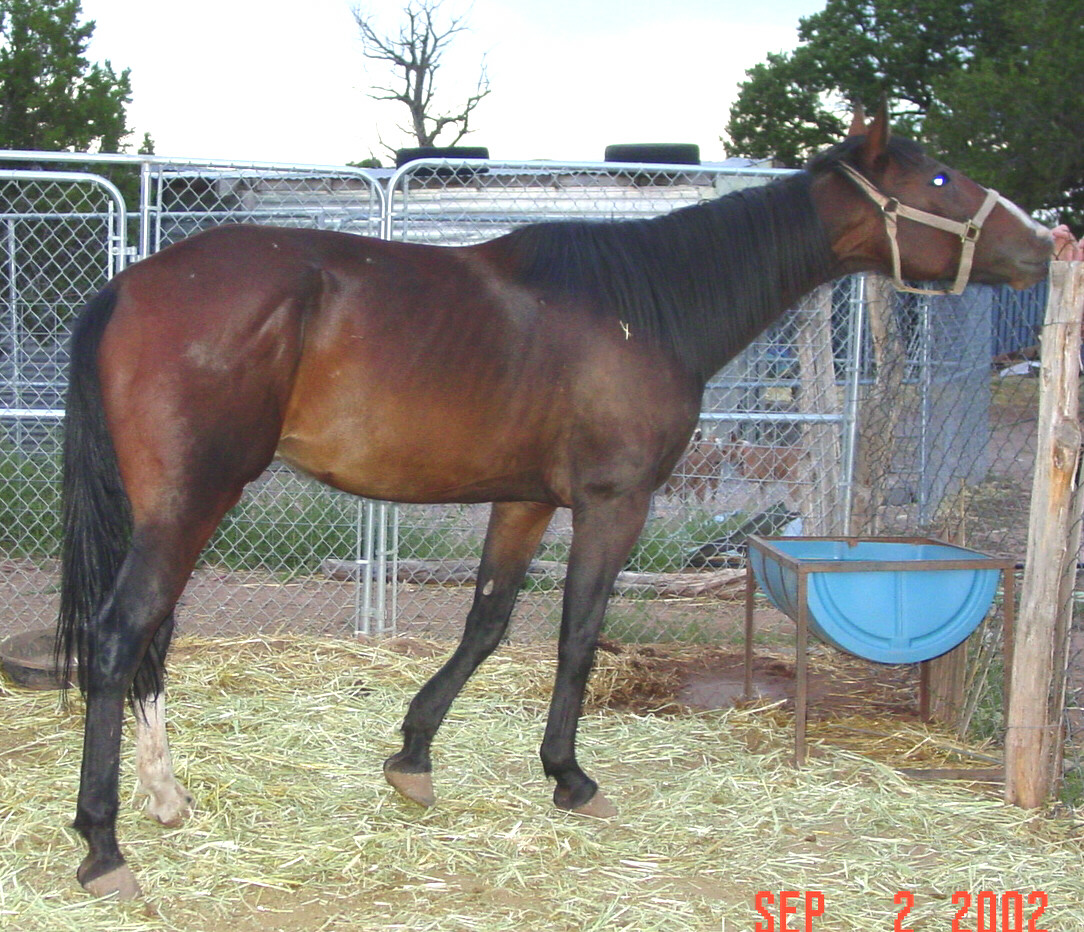 I need to find an appropriate home for this gelding. He is approximately 7 years old and about 15.3 hands tall. Current on vaccinations except West Nile, Negative coggins in september, Recently dewormed.
The story is that the horse caught his leg in the cattle guard and the old owner removed the horse from the cattle guard and turned him loose on the range(for over a year) with out any veterinary care. We bought him to have him vet checked and hopefully find him a new home. Basically what it looks like is a severely bowed tendon (low bow) along with possible sesamoid damage (cant tell without x-rays and the horse seemed to have a reaction to tranq's the first time we had him at the vet). The horse does lead and is pretty easy to catch in the field. He does accept a saddle with little problem. He has learned to load reasonably well, but he does not pick up his feet well for trimming.
My other horses harass him and do not let him rest his leg. He needs to be separated from the others and I do not have enough room to do this continually. He is currently sound at a walk, lame at a trot, but feels good enough to blow off at a dead rund in cool days out in the pasture.
I should note here that when we went to pick him up originally the intent was to have the vet check and x-ray his front leg. However due to some rough handling by the previous owners trying to get him loaded into the trailer, he reared up and scalped himself (I was not there, I met the trailer at the vet). The vet tranquilized him and tried to suture the forehead, the horse did not do well with the light tranquilizer, so he fully sedated him and layed him out on his side. The vet did not think it was necessary to look at the leg and felt that trimming the long hoof (seen in the pictures) would help. It has helped to some degree, but not completely. I am also having difficulty getting the off side front trimmed, because he does not want to put all his weight on the bad leg. Due to his previous abuse, it is diffucult to work on either leg for to long so neither is trimmed as well as it needs to be. In addition, I am hesitant to trim large amounts with out proper x-rays to see what all dammages have been done. But with the horse's current history, getting x-rays has been very difficult.
Great news!!!! Jack had a great new home with a local equine rescue. Walkin N Circles Ranch in Edgewood, NM Will be providing him with a permanent place to live.